Danvers MA Theme Party/Festival Costume Shop | Updated accessory line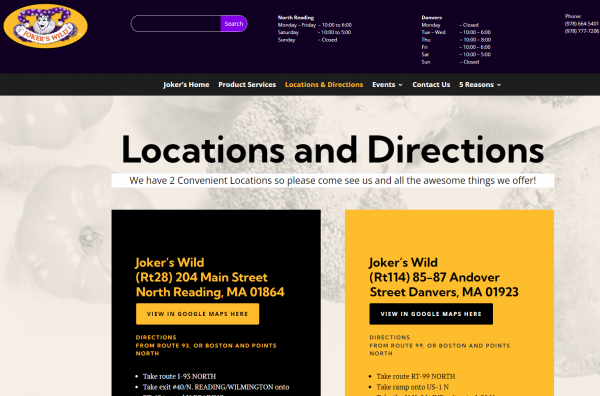 North Reading, United States – July 29, 2022 —
Acquiring a slew of new costumes and accessories in time for the upcoming summer holiday and festival season, the brand believes they are the ultimate one-stop-shop for themed clothing. The first store is conveniently located at 204 Main Street, North Reading, and can be accessed from Route 93. Danvers' store address is 85-87 Andover Street. It is accessible via the RT-99 route from Boston and the I-95 route from Georgetown.
Detailed directions can be found at https://thejokerswild.com/locations-directions
As big events return after years of Covid-19 cancellations, The Joker's Wild is proud to offer the largest collection of festival-inspired costumes and streetwear in New England.
The store has great options for the state's largest festival, Boston Calling, which will be held the Memorial Day long weekend. For those who want to get in the festive spirit for The Forest Park Concert Series, which kicks off in early June, the Green River Music Festival in late June, or the popular Beach Roach Weekend at Martha's Vineyard, there are countless outfits and accessories to explore at The Joker's Wild.
Their new summer collection includes streetwear, costumes, accessories, shoes, hats, wigs, masks, belts, crowns and cosmetics. Festival-goers can sample full costumes and feature accents and highlights to make an otherwise simpler outfit stand out. Whether a customer is looking for something more steam-punk or something more glitzy, the chain is confident it has the ability to adapt to whatever events are happening in Massachusetts this summer.
The stores are staffed with a passionate team of costume connoisseurs who have the eye and the skills to help their customers build a costume from scratch. If they need ideas, the staff will be happy to help.
Beyond the summer festival and party scene, the store also has a number of options for themed parties, including Halloween, toga, gangster, camo, superhero, murder mystery, and the 60s. For people hosting or attending rookie, graduation, back-to-school, or retirement parties, The Joker's Wild also has plenty of options.
The chain stocks all of its suits in all shapes and sizes and has comfortable fitting rooms to allow its customers to find their perfect fit and style.
A chain spokesperson said: "Our passion is to be there for our customers when they develop an idea or concept. We love helping them with makeup, accessorizing, completing a project and more. We can give you ideas to make your project a totally memorable success.
More information is available at https://thejokerswild.com/locations-directions
Contact information:
Name: Rob O'Neill
Email: Send Email
Organization: The Jokers Wild
Address: (Rt28) 204 Main Street North Reading, MA 01864, North Reading, MA 01864, USA
Phone: +1-978-777-7206
Website: https://thejokerswild.com/locations-directions
Build ID: 89079264
If you detect any problems, problems or errors in the content of this press release, please contact [email protected] to let us know. We will respond and rectify the situation within the next 8 hours.
COMTEX_411237762/2773/2022-07-29T11:43:23