Diana Vishneva did not let the pandemic stop her festival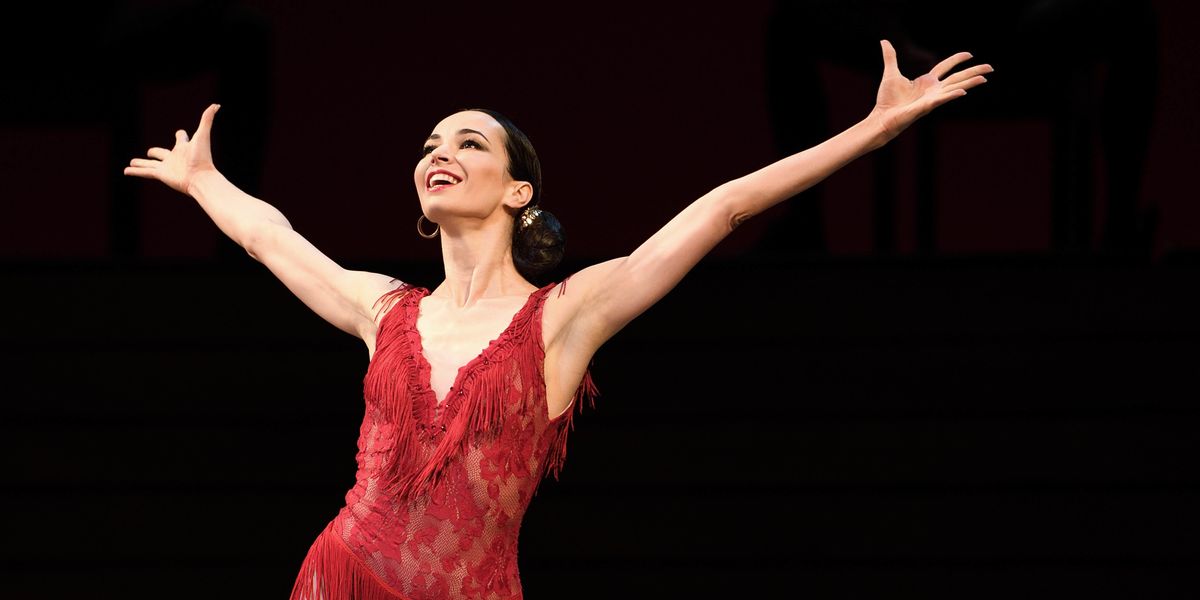 [ad_1]
What does it take to organize a dance festival in the midst of a pandemic? International ballet superstar Diana Vishneva has an answer or two. His festival of contemporary choreography, Context. Diana Vishneva, currently in her eighth season, runs from October 14 to November 29, with live performances at multiple venues in Moscow and St. Petersburg, Russia. This year, for the first time since its inauguration, the festival also offers an impressive online program.
Dance magazine spoke with Vishneva about the challenges and rewards of holding this event during the pandemic, returning to the stage of the Mariinsky Theater and eager new fan: his 2-year-old son Rudolf.
Why did you decide to go ahead with the festival during the pandemic?
We never thought about canceling. Our mission is to support young choreographers, and there have been more than 100 applications this year. We launched our own digital platform to connect with audiences and have the ability to switch to the online-only format, if we had to. A number of live performances had to be postponed until 2021, including Reviser, by Kidd Pivot, and Proofreading, by Batsheva Dance Company. Fortunately, we were able to present our flagship event live, the Young Choreographers Competition, which opened the festival on October 14 at the Gogol Center in Moscow. In November, we are planning live performances of two one-act productions, Schaherezade and The fool, by the Perm Ballet, which will also be available for streaming.
What are the new projects of the festival?
This year, we have set up a new digital platform to present the main events of the festival online, including educational programs: master classes, conferences and round tables. The livestream of our Young Choreographers Competition attracted nearly 100,000 viewers. I was surprised, even shocked, by this number. At first I thought there was an extra 0.
We have a brand new initiative, Context Open, designed to empower dancers, choreographers and companies, without age, education or citizenship restrictions, to create and present their work.
We also explore unconventional performance spaces, such as museums and industrial buildings. One of the winners of our choreographic competition, Olga Labovkina, adapted her work Air like an "immersion theater" play, in which the audience actively participates in the show. It will be presented as part of this year's festival at Moscow's Hlebozavod No. 9 (a former bread factory turned into an art space) and St. Petersburg's Sevkabel Port.
The Young Choreographers Competition
Maria Khurtortseva, courtesy of Vishneva
The Young Choreographers Evening was dedicated to Pina Bausch. Tell us about this dedication.
For me, Pina has become a source of strength and inspiration. She was an artist and choreographer of incredible depth, who influenced the history of modern dance. I will always remember our meeting in 2008. She spent a lot of time with me, seduced by the fact that I was a classical Russian ballerina, who came to her festival. I played a little bit of his work and we made plans for a joint production. Impressed with his festival, I had an idea for mine.
You will dance the title role of the reinvented Schaherezade during the festival. What is this ballet about?
It is based on the true story of Farah Pahlavi, the last Empress of Iran, a strong supporter of women's rights, social reform and cultural development in her country. This ballet was created by the principal ballet master of the Perm Ballet, Alexey Miroshnichenko, to music by Nikolai Rimsky-Korsakov and premiered last year. I had the honor of meeting and speaking with Farah Pahlavi in ​​March, when I was performing in Paris just before the lockdown, and this unforgettable meeting makes this role even more special for me.
Recently you returned to the stage of the Mariinsky Theater dancing in the Carmen suite. How did you feel after a long break?
Seven months without being able to perform is a very long time for a dancer. But I have already had the experience of restoring my physical form after the birth of my son. This the experience turned out to be very useful. I was able to get back in shape very quickly.
Your son, Rudolf, is 2 years old. Has he ever seen you dance on stage?
His favorite is my performance in Maurice Béjart's play Bolero. Every day he asks me to play the recording on the video for him. Last year I took him to the Mariinsky to see the first act of The Sleeping Beauty and he looked at him, mesmerized. And he was in the audience when I was playing in Carmen Suite. He knows his mother is a dancer. He already understands the concept of theater, audience and applause, and he likes to mimic callbacks and salutes.
How has the pandemic changed your view of your work?
The pandemic is not over yet and we have to adapt to the new reality, to the fact that it is difficult to plan for the future. But it's important to stay optimistic and find ways to move forward. Now I have a new appreciation for my work. And I'm sure our dancers and choreographers feel the same. The seven participants of our competition made their pieces during the quarantine, and because of this their creations acquired a special meaning. I saw so much honesty and authenticity in the performance during the competition. The dancers know that the opportunity to be on stage is so precious right now and can be taken away from them at any time. When I took the stage to address the audience, saying the usual "It's so wonderful to see you with us today!" – to me those words had a really special meaning.
[ad_2]