Hay-on-Wye will see the return of the philosophy and music festival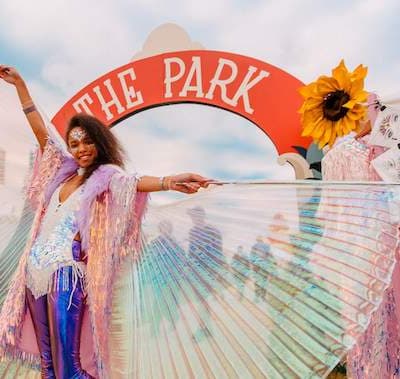 The world's largest philosophy and music festival is back this year and ready to bring another incredible lineup to the city of books.
Combining critical thought and stimulating debate with diverse music and a vibrant culture, HowTheLightGetsIn has released the first of its Hay 2022 lineup.
Back for their big return to Hay-On-Wye, HowTheLightGetsIn celebrates days of discussion and new discoveries with an incredible lineup of music and cabaret.
June's lineup includes Mercury Prize winner Talvin Singh, uniting the classical traditions of the East with the modern textures of dance clubs in the West, a style he defines as "tablatronic".
Rising to fame in the mid-1990s, Singh was one of the first to introduce Indian music to today's youth and simultaneously inspire a new direction for emerging electronica artists.
Lots of musicians like to talk about versatility, but Nabihah Iqbal has a better foundation than most. The London-based musician, producer, DJ and broadcaster has since garnered critical acclaim from The Guardian, Pitchfork, Dazed, The Observer, Q Magazine, BBC Radio 1 and BBC 6 Music. Formerly known as Throwing Shade, she ditched that moniker to embrace the name she was born with. Expect an invigorating set from him this summer.
Internationally acclaimed singer-songwriter Camille O'Sullivan will return to HowTheLightGetsInfofor 2022.
A fan favourite, this year she presents a stripped down evening accompanied by the piano, creating an intimate evening of songs and stories about loss, love, joy, light and dark from her favorite writers Cave, Cohen, Bowie, Radiohead, Brel and Arcade Fire. Steam Down is a collective, a weekly party and a real movement.
Formed in May 2017, the project was born out of the band's desire to reconnect with a community: fractured not only by endless touring, but also by the forces of gentrification and censorship that threaten the arts across the capital.
Their musical mecca turned out to be a railway arch bar in south London, which soon hosted a frenetic weekly jam party, infamous for its opportunity for reflection, release… and lots of sweat.
June will also welcome soul singer and cellist Ayanna Witter Johnson, shimmering pop artist King Charles, 6 Music's Nemone, indie trio Peaness, bluegrass band Flats & Sharps, Franco-Caribbean trio Dowdelin, celestial producer and singer Shunaji , London trio Honeyglaze, folk artist Clara Mann, Welsh songwriter Ailsa Tully, poignant storyteller Chloe Foy, Bajan-Welsh singer Kizzy Crawford and harpist Cerys Hafana.
The People's Front Room will also host its own tent throughout the festival weekend.
What started as a group of 8 has now grown to over 80, and with that growth comes a whole spectrum of talent and collaboration spanning visual arts, music and new technology/media.
With over 300 events taking place throughout the weekend, the June festival promises a weekend filled with debate, humor, music and must-see talks: from rapper and activist Lowkey, award-winning physicist Nobel Prize winner Roger Penrose, comedian and actor Isy Suttie, legendary biologist Richard Dawkins, award-winning comedian Sally Phillips, pioneering race philosopher Tommy Curry, prolific philosopher Alex O'Connor (CosmicSkeptic), as well as comedians Olga Koch, Alfie Brown, Leo Reich, Erika Ehler, Joz Norris and many more.
Tickets for the full weekend are available now, with students and under 25s eligible for a 30% discount. For more details, visit https://howthelightgetsin.org/festivals/hay