Natalia Osipova in the center of the Adelaide festival stage
[ad_1]
The Adelaide Festival has announced three Australian exclusives for its 2019 program, including four dance.
The centerpiece is internationally renowned ballerina Natalia Osipova, born in Russia but now director of the Royal Ballet in England. She stars in the acclaimed solo job Two feet, originally created and performed by Meryl Tankard solo for the 1988 World's Fair and now recreated especially for Osipova. This solo is a tour de force in which Tankard merges his own experience as a child growing up in Australia with Russian dancer Olga Spessivtzeva, driven mad by perfectionism. Olga's concern for the role of Giselle has led her to become, like her character, a prisoner of dance.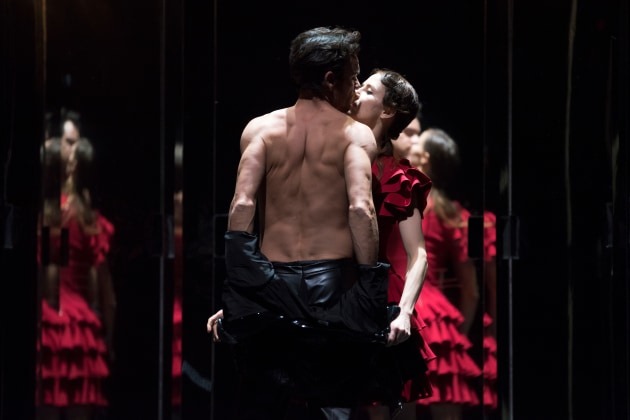 The festival also includes the German company Semperoper Ballett, which is coming to Australia for the first time with a production of Carmen by Johan Inger. While dancing at the Netherlands Dance Theater in the 90s, Inger's choreographic talent of Swedish origin caught the attention of Jirí Kylián and he quickly received a series of prestigious awards. His Carmen is a contemporary take on classical history. Created for the Compañía Nacional de Danza de Madrid on the familiar score by Bizet / Shchedrin (with additional music by Marc Álvarez)), this ballet won the Benois Prize for Dance 2016.
8 – 10 March 2019
See a trailer here.
In another exclusive from Adelaide, Israel's popular Hofesh Shechter brings his Grand finale, who opposes his company of extraordinary dancers and a group on stage to an ever more pervasive wave of percussive sounds and obscurity. The work is described as: "Fierce and anguished on one level, its moments of irony, suspended rapture and raging defiance infuse it with a thrilling and unstoppable energy".
March 15 – 17, 2019
See a trailer here.
And last but not least, from Argentina comes A Poyo Rojo choreographed by Alfonso Barón and Luciano Rosso, whose skills span contemporary dance, martial arts, classical ballet, commercial street movements and more.
It is a duo "in a sweat-infused locker room, two macho guys in tiny shorts compete in a game of one-upmanship, laughter guaranteed".
February 28-March 5, 2019
See a trailer here.
More info here.
[ad_2]