Review: MoveMe Festival – Dance Australia
[ad_1]
Everything is valid Dance Theater
Dust on shortbread
Tuesday September 11
Co3 Australia
WA Dance Makers Project
Studio Underground, State Theater Center
Wednesday 12 September
Presented by Ausdance WA, the MoveMe Festival is a showcase for contemporary dance and provides opportunities for independent choreographers and dancers from Western Australia.
Anything is Valid Dance Theater often uses non-traditional spaces for its performances. Dust on shortbread takes place inside a suburban home in North Perth for an audience of 15, seated on sofas and chairs in the living room, observing but not interacting.
Created by Serena Chalker and Quindell Orton with sound design by Tristen Parr and production design by Emily Stokoe, this amorous, at times joyful, intensely moving and immersive immersive dance-theater experience casts a soft light, with sensitivity and respect, about everyday challenges and frustration. of an aging couple negotiating their way through the world of dementia.
Two seasoned and accomplished artists, Elizabeth Cameron Dalman, founder of the Australian Dance Theater, and esteemed WA actor George Shevtsov, actively walk around the house but sometimes seem unsure of their purpose. They sit together in lively "conversations", albeit telling quite different stories, as detailed memories of the past come and go. Sharing the soothing ritual of making tea together, or tripping the fantastic light and dancing to music together, reassuringly unites them. Disarming and convincing, Dalman and Shevtsov make a perfect couple, and both brought compassion, poignantness and truth to their performances.
Programmed as a "curtain raiser" for two new works by Co3 in their WA Dance Makers project, choreographer Richard Cilli It is now for LINK Dance Company is an entertaining, satirical deconstruction of a cheerleader routine performed to warm up the crowd before "the big game". This is a sequel to Chile's 2017 work It was then created for the WAAPA graduate group, and many of the same WAAPA students are among the 14 pre-professional LINK dancers. Creating their own rhythms, stomping, clapping and vocalizing, before producing big red pom poms that flood the stage with color and movement, the dancers nailed the subtle satire and fixed, contrived smiles required into a fast, physical and good performance. disciplined.
The episodic structure of revered Western Australian choreographer Chrissie Parrott's new work In-Lore Act II gives it a dark and obscure cinematographic quality, which is reflected in the new score created by composer Eden Mulholland, which combines cello, voice and speech with a haunting effect. Allusions to Nordic folklore are apparent in the staging and in the soundscape.
In-Lore Act II focuses on a domestic scene with a family gathered around a table, but all is not as it seems, with anger and restlessness still present. The mysterious appearance of a young woman induces new disturbances.
A disconcerting, jagged, fractured choreographic language with deformed body and limbs creates disturbing and surprising images. Forms resembling deer antlers emerge in the arms and hands of the dancers and the extended, arched backbends recur in the solos and duets. Two young girls of disturbing gaiety engage in a folk dance with their heels.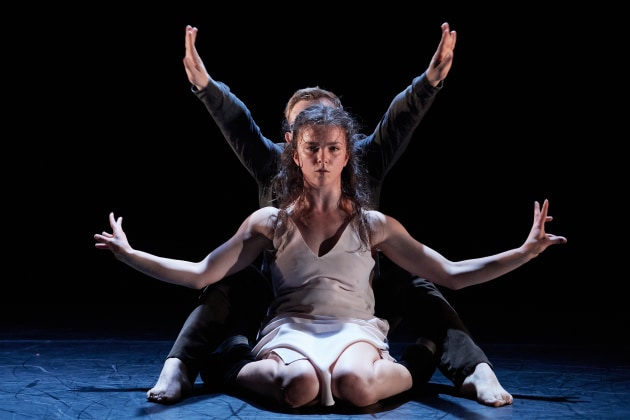 Co3 dancers Tanya Brown, Katherine Gurr, Andrew Searle, Ella-Rose Trew and Zoe Wozniak responded to the demands of the choreography with skill, strength and dexterity. They were joined by guest artist, much-admired award-winning Australian dancer David Mack, who stepped in (and came out of semi-retirement) on short notice to replace an injured dancer, and delivered a powerful and breathtaking performance.
you make sheep is created and directed by Unkempt Dance, which consists of Amy Wiseman, Carly Armstrong and Jessica Lewis. Co3 dancers Tanya Brown, Katherine Gurr, Mitch Harvey, Andrew Searle, Ella-Rose Trew, and Zoe Wozniak reveled in this witty parody of just about everything. With a hand-held microphone and well-written, perfectly delivered dialogue that motivates the movement, each dancer revealed personal truths about themselves. It was bursting humor with a good dose of absurdity.
Mark Howett's lighting completely transformed the space of the Studio Underground. And best of all was the exceptional technical level, versatility and staging of all the dancers.
– MARGARET MERCER
Top photo: Elizabeth Cameron Dalman and George Shevtsov in a scene from 'Dust on the Shortbread'.
[ad_2]