Sedona Film Festival Presents Met Live Opera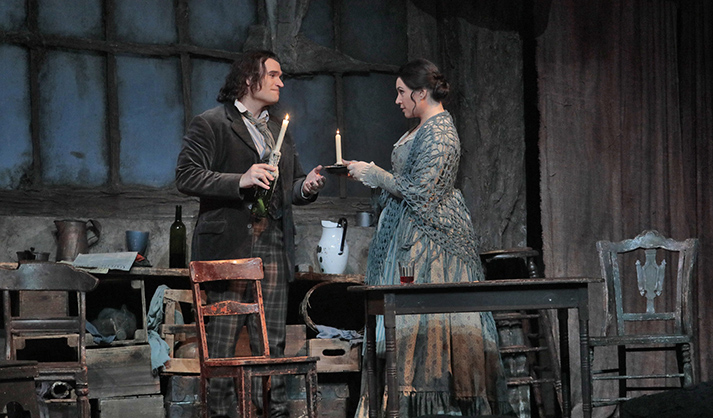 La Bohème (Courtesy of SIFF)
The Sedona International Film Festival is proud to join theaters nationwide and select venues internationally to bring the Metropolitan Opera's acclaimed summer encore series to the Mary D. Fisher Theater.
The Summer Encore 2022 series opens with Lehár's operetta "The Merry Widow," featuring sopranos Renée Fleming and Kelli O'Hara in effervescent staging by director-choreographer Susan Stroman.
The series continues with Puccini's "Madama Butterfly," featuring soprano Patricia Racette in the title role in Anthony Minghella's superb production; Franco Zeffirelli's beloved staging of Puccini's "La Bohème," with a cast led by soprano Sonya Yoncheva and tenor Michael Fabiano; and Donizetti's La Fille du Régiment, with vocal fireworks from soprano Natalie Dessay and tenor Juan Diego Flórez.
The Merry Widow
Saturday July 16 at 1 p.m.
Soprano Renée Fleming lights up the Met stage as Hanna Glawari, the wealthy widowed heroines of Lehár's popular operetta, set in Paris and seen in a scintillating production directed and choreographed by Susan Stroman. Baritone Nathan Gunn is Danilo,
Hanna's old flame, who is supposed to woo and marry her in order to keep her fortune in their home country, Pontevedro. Soprano Kelli O'Hara sings Valencienne, the flirtatious young wife of the Pontévédrien ambassador to Paris, Baron Zeta, played by baritone Thomas Allen, with tenor Alek Shrader as suitor, Camille de Rosillon. Andrew Davis conducts the waltz-rich score, directing a production that includes an English translation by Jeremy Sams. Originally transmitted on January 17, 2015.
Lady Butterfly
Saturday July 30 at 1 p.m.
Anthony Minghella's stunning production of Puccini's opera stars soprano Patricia Racette as Cio-Cio-San, the confident and innocent young geisha. She falls disastrously in love with US Navy Lieutenant B.F. Pinkerton, sung by tenor Marcello Giordani, only to be abandoned by him.
Mezzo-soprano Maria Zifchak is his faithful servant, Suzuki, and baritone Dwayne Croft is Sharpless, the sympathetic American consul who does everything he can but is unable to avert tragedy. Originally transmitted on March 7, 2009.
Bohemian
Saturday, August 6 at 1 p.m.
Puccini's timeless love story, which includes some of the composer's most beloved music, has moved generations of opera lovers since its world premiere in 1896. Soprano Sonya Yoncheva is the fragile seamstress Mimì, who falls instantly in love with passionate poet Rodolfo, sung by tenor Michael Fabiano.
Soprano Susanna Phillips and baritone Lucas Meachem exchange both spars and kisses as recurring lovers Musetta and Marcello, with bass Matthew Rose and baritone Alexey Lavrov rounding out the rambunctious group of bohemian friends. Marco Armiliato directs the picturesque staging by Franco Zeffirelli. Originally transmitted on February 24, 2018.
Daughter of the Regiment
Sunday, August 13 at 1 p.m.
Wacky physical comedy and impeccable coloratura come together in soprano Natalie Dessay's indelible portrayal of the fiery tomboy raised by a regiment of French soldiers.
Tenor Juan Diego Flórez is the young Swiss villager who conquers his heart and a slew of high Cs. Also featuring thunderous performances from mezzo-soprano Felicity Palmer and baritone Alessandro Corbelli, as well as a cameo from Tony Award winner Marian Seldes, the performance left audiences elated by this production to laugh out loud. Originally transmitted on April 26, 2008.
All of the Metropolitan Opera's summer encores will be performed at the Mary D. Fisher Theater. Tickets are $15 or $12.50 for Film Festival members. Tickets are available in advance at the Sedona International Film Festival office or by calling 928-282-1177. The theater and film festival office is located at 2030 W. Hwy. 89A, in West Sedona. For more information and to order tickets online, visit SedonaFilmFestival.org.
Information provided by SIFF.