The 26th edition of the Arab Film Festival unveils its full program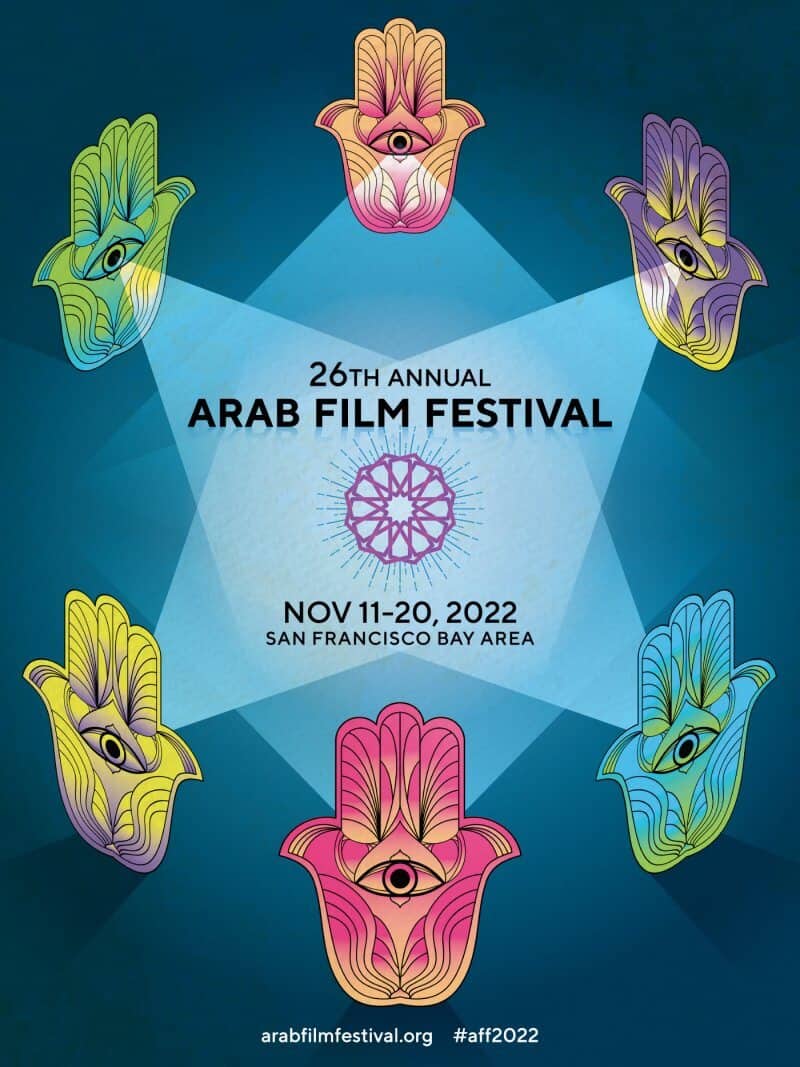 North America's oldest and largest festival celebrating Arab cinema returns for its 26th edition
The Arab Film and Media Institute (AFMI) is pleased to announce the complete program for the Arab Film Festival 2022, from November 11 to 20, 2022 with a hybrid program of in-person and virtual events. For the full lineup and schedule, please visit arabfilmfestival.org. A list of available filters can be found below.
The festival offers special programming to local audiences and unprecedented access to the diversity and range of authentic Arabic experiences. It has earned an international reputation for excellence and provides its audiences with access to media that reflects the lives of culturally and societally provocative and underrepresented themes and groups.
The festival takes place throughout the San Francisco Bay Area at the Castro Theater (San Francisco), Roxie Theater (San Francisco), and New Parkway Theater (Oakland). The program extends 10 days, featuring 60 films from 18 countries, 22 directed by women. AFF2022 includes opening and closing parties, filmmaker mixers, classic films, industry and community panels, and filmmaking workshops. Select programs will also be shown simultaneously online with highlights shown in person in New York and Los Angeles at a later date.
"This year's festival was truly a labor of love. With a record number of submissions, the decision of what to showcase was difficult, but we are proud of the decisions we made," Yasmina Tawil, Manager of the AFMI program and curator of the festival "This year's program features some of the most beautiful, captivating and unique films from the Arab world in recent years. Their stories transcend the borders of culture, religion and of sexuality and draw on universal and deeply human themes.I hope that viewers of all kinds will leave these films moved, inspired and, of course, entertained.
OPENING NIGHT: The Blue Caftan
Morocco's entry to the 2023 Oscars
Friday, November 11 – 7:00 p.m. – Castro Theater
Filmmaker in person. Followed by an after party at the Slate Bar
Directed by Maryam Touzani, Morocco, 2022, 123 min
Halim and Mina run a traditional caftan shop in one of Morocco's oldest medinas. In order to meet the orders of demanding customers, they hired Youssef. The talented apprentice shows unwavering dedication in learning the art of embroidery and sewing from Halim. Slowly Mina realizes how much her husband is moved by the presence of the young man.
PROGRAM HIGHLIGHTS
Gay Movies @ AFF
Short Film Program: Queer Lens
Saturday, November 12 – 6:45 p.m. – New Parkway Theater
This year's Queer Lens program focuses on the theme of diaspora and displacement and features award-winning short films that highlight the experiences of queer Arabs around the world. The characters in these stories all find themselves at the intersection of their identities. Some must reconcile the reality of their sexuality with a family that loves but does not understand, others work to live life authentically in a society that does not accept them, and a few explore leaving a place that is not not sure even if it means letting go of those they care about. In this collection, audiences will find stories that may be unique in their detail but are deeply relatable at their core and despite the difficulties, celebrate honesty and love above all else.
Habib & the Thief (Sweden) dir. Naures Sager
The Window (Lebanon) dir. Sarah Kaskas
Faraway (Canada) dir. Aziz Zoromba
Dress Up (USA) dir. Karina Dandashi
Warsha (Lebanon) dir. Dania Bdeir
w/ Online panel: Arabic + Queer + Film: Between here and there.
How does queerness as a lens engage with everyday precariousness in the Middle East? How does queerness make sense of the alienating experience of displacement in the West? This panel reflects on the richness and diversity of queer film production in the Arab region and its diasporas. It deals with queer films as spaces for reflection and contestation, and as frameworks for an alternative creation of the world. Panelists include filmmakers from the Queer Lens shorts program. Discussion moderated by Raed Rafei, filmmaker and doctoral student in film and digital media at the University of California, Santa Cruz.
Miguel's War
Saturday, November 12 – 2:00 p.m. – New Parkway Theater
Directed by Eliane Raheb, Spain/Lebanon/Germany, 2021, 128 mins
Portrait of a homosexual confronted with the ghosts of his past. After fleeing war and repression 37 years ago, Miguel returns to Lebanon where he traces hidden desires, unrequited love and tormented feelings of guilt.
Should I compare you to a summer day?
Friday, November 18 – 8:50 p.m. – Roxie Theater
Directed by Mohammad Shawky Hassan, Egypt, 2022, 66 min
A contemporary queer musical taking Arabic folk tales as a formal reference and Egyptian pop music as its main sound material. It is based on the filmmaker's personal love diary and told in the form of an "Arabian Nights" tale, where the stories playfully unfold through conversations between Scheherazade, a narrator who never appears , and the ghosts of former lovers.
CENTERPIECE FILM
memory box
Saturday, November 12 – 8:30 p.m. – New Parkway Theater (filmmaker in person)
Encore: Sunday, November 20 – 5:30 p.m. – Roxie Theater
Directed by Joana Hadjithomas & Khalil Joreige, Lebanon, 2021, 100 min
Maia, a single mother, lives in Montreal with her teenage daughter, Alex. On Christmas Eve, they receive an unexpected delivery: notebooks, tapes and photos that Maia sent to her best friend in 1980s Beirut. Maia refuses to open the box or confront her memories, but Alex secretly begins to dive into it. Between fantasy and reality, Alex enters the world of his mother's tumultuous and passionate adolescence during the Lebanese civil war, unveiling the mysteries of a hidden past.
Memory Box is Lebanon's entry to the 2023 Oscars
AMERICAN PREMIERE
Alleys
Sunday, November 13 – 8:30 p.m. – New Parkway Theater
Directed by Bassel Ghandour, Jordan, 2021, 116 min
In a claustrophobic neighborhood in east Amman where gossip and violence run rampant, Ali, a hustler posing as a businessman, has a secret relationship with Lana. Their romance is kept under wraps until Lana's mother, Aseel, is blackmailed with a video of the young couple.
Hoping to avoid public embarrassment, Aseel quietly convinces Abbas, a ruthless gangster, to put an end to it…but things don't go so well. Their lives begin to intertwine and collide not only with each other, but with the other residents living in the same alleys.
The desert rocker
Sunday, November 13 – 4:00 p.m. – New Parkway Theater
Followed by a Q&A with the director
Directed by Sara Nacer, Canada/Algeria/France/Morocco, 2022, 75 min
The Desert Rocker is an intimate, witty and profound portrait of the extraordinary Hasna El Becharia, a pioneering Gnawa artist. The first musician to break the social barrier of this culture, she empowers and inspires women of all ages by reclaiming a musical tradition reserved for men for centuries. A singularly talented artist, she encourages women to redefine their roles and challenge cultural norms, one musical performance at a time.
Maybe what I fear doesn't exist
Tuesday, November 15 – 7:40 p.m. – New Parkway Theater
Directed by Corine Shawi, Lebanon, 2021, 72 min
When her father suddenly becomes paralyzed, the filmmaker spends four years between hospitals taking refuge behind her camera far from a family drama. Rehabilitation centers, cemeteries, lovemaking, virtual reality experiences, fervent prayers and voice notes are the story of the journey of a filmmaker who tries to repair the impossible: to find absolution for a broken family by bringing her father back to life.
CLOSING EVENING
the stranger
Sunday November 20 – 7:45 p.m. – Roxie Theater
Directed by Ameer Fakher Eldin, Syria/Palestine/Germany/Qatar, 2021, 113 mins
In a small village in the occupied Golan Heights, the life of a desperate unlicensed doctor going through an existential crisis takes another unfortunate turn when he encounters a man injured in the war in Syria. Overturning all community expectations in times of war and national crisis, he ventures out to meet his new destiny.
For the full lineup and schedule, please visit arabfilmfestival.org
TICKET AND PASS INFORMATION
General admission tickets for the virtual screenings, Q&As and panels range from complimentary to $8. In-person admission is $14, $11 for students, seniors, or low-income earners. Special presentations, such as opening night, range from $20 to $75.
Virtual-only passes are $60, festival passes are $150, and VIP passes are $200.
For more information, please visit the ticketing information page on arabfilmfestival.org